Founder Gabriela Ammann lives in Brooklyn, NY with her husband and two children. She is certified by DONA International and Lamaze International, and is a member of the Metropolitan Doula Group. She also teaches with Healthy Start Brooklyn, an organization providing services to address the complex health and social problems associated with low birth weight, high infant mortality, and disparities in perinatal outcomes.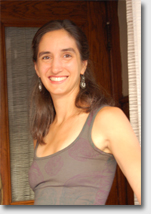 Although enthralled with childbirth for as long as she can remember, it was her profound personal experiences of pregnancy, birth and breastfeeding that motivated her to become a doula and childbirth educator.
Gabriela is also a choreographer and dancer, who from 1996-2003 co-directed UnderFoot Dance, a modern dance company based in NYC.
Email: gabriela@ammannbirth.com
Telephone: 917.544.0656